The Whole PIE System™

is a simple but highly effective small business management structure that helps business owners break the cycle of frustration, inefficiency, and unmet objectives, so that you can achieve more of your goals and get more of the results you want in your business, faster.

Our unique "triple-bottom line" approach focuses on helping your business generate more

PROFIT

, create more

IMPACT

in the communities you serve, and become more

ENJOYABLE

to build, lead, and manage.
If you're a business owner, the Whole PIE System™ will help you:
Run your business more efficiently
Find more time in your week
Implement simple but powerful action plans to get results faster
Run effective, laser-focused meetings
Be more focused, disciplined and accountable
Resolve recurring problems once and for all
Simplify decision-making
Identify and monitor key business metrics
Clarify core processes
Easily and effectively evaluate your people
Manage change and make it stick
Utimately, generate more profit, impact and enjoyment in your business
The System can be implemented into any small business, in bite-sized chunks. We'll start by assessing your current state and end with the Whole PIE System™ in place.
---
The Whole PIE System has been crucial in setting up my business for success and growth – all while enjoying the process of doing so! Andy helped me implement the System in my business and the results have been better than I could have expected: I exceeded my profit, impact, and enjoyment goals in my first year using the System, and my growth trajectory has been amazing. I highly recommend the Whole PIE System for all small business owners who want to enjoy the process of growing their business.

Andy helped us establish goals, key priorities, and action steps that align with our company's purpose and core values. He also helped us implement the data-driven accountability structure we needed to keep us focused and on track to reaching our goals. Andy knows his stuff. We look forward to working with Andy and Clarkie Consulting as we continue to grow our business.

I really enjoyed the Whole PIE Business Management System that Andy Clark introduced to our business. From defining our purpose, core values and value proposition, and setting three-year, one-year and ninety-day goals, he helped us establish a platform for our success. Best of all is the accountability system he helped us put in place, driven by key data for our business.

Working with Andy has helped me to achieve growth in my business and to be more structured in my day to day focus. I have implemented many of the tools from the Whole PIE System and using the Key Data Tracker on a weekly basis has made me more accountable and as a result I have my fingers on the pulse of my business. This has contributed to helping me achieve many of my goals both professionally and personally! Thank you Andy!

Andy brings a real sense of simplicity and calm to our every day work life. With his Whole PIE System and way of thinking it really breaks things down in bite-size pieces and makes it easy to understand and to form a plan, giving business owners a lot of great traction to help grow and move forward. I see myself and The GJV Group working with Andy for a very long time.

One of the biggest outcomes of working with Andy and implementing the Whole PIE System into my business was how setting big goals around the impact I wanted to make with my business ended up being the catalyst to achieving more sales and profit growth. I didn't see that coming, but was happy it did!

Since we implemented elements of the Whole PIE System into our business, we are on track to have our best year ever. The System not only helped us establish the key objectives and metrics for our family business, it helped us set up an accountability structure that forces us to stay focused and on track. I recommend Clarkie Consulting and the Whole PIE System to any small business looking to grow.
There are two essential and equally important elements of the Whole PIE System™: The FOUNDATION and the FLYWHEEL. We will help you build both of these into your business.
THE FOUNDATION:

Increase efficiency by aligning the 4Ps of your business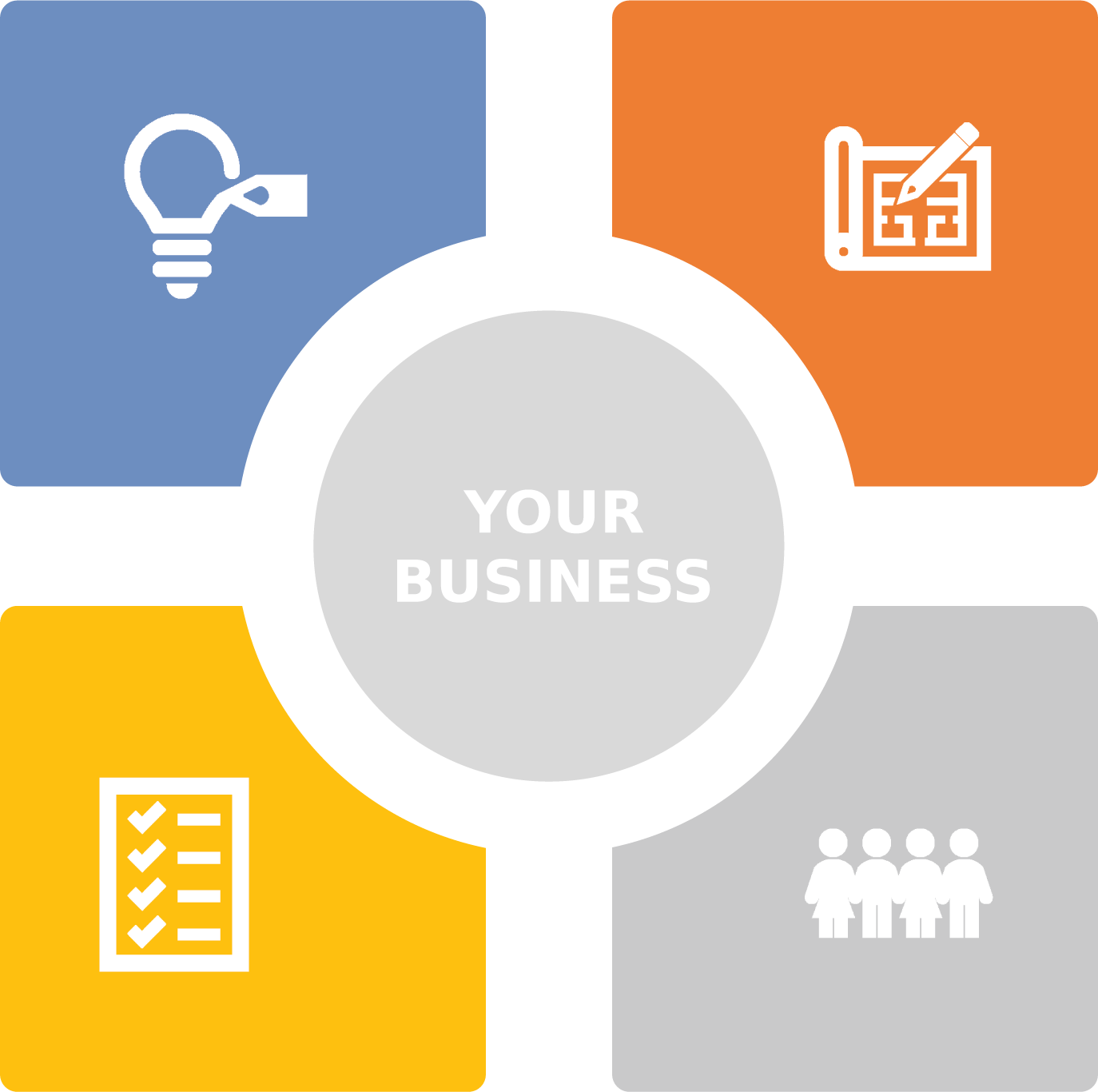 Purpose:
What are you trying to accomplish and why?
Purpose Statement
Vision Statement
Core Values
---
Process:
How can you systematize doing what you do?
Core Functions
Key Processes
Simplified Operating Manual
Planning:
What is the roadmap that will get you there?
3-Year Plan
1-Year Plan
Quarterly Picture
---
People:
Who do you need to help you get there?
Functional Accountability Chart
Right People
Right Seats
---
THE FLYWHEEL:

Drive results with data-driven accountability
1. Ownership of Strategic Goals
Key building blocks assigned to one person only
On track or off track
---
2. Identify and Measure Key Data
The key metrics that give you the pulse of your business
The Key Data Tracker
Weekly / monthly
---
3. Effective Problem-Solving System
Parking lot for your issues, problems and opportunities
"Give some PDA to your IPOs"
---
4. Structured Meeting Cadence
Weekly – 90 minutes – same time same place
Quarterly – full day
Annually – 2 days
The Whole PIE Pathway™:

The step-by-step process you'll follow to move from your current state to getting the Whole PIE
Assess Current State
Clarify Vision & Mission
Clarify & Test Core Values
Create 1 page 90-day Plan
Create 1 page 1-Year Plan
Create 1 page 3-Year Plan
Identify & Track Key Data
Identify & Resolve Recurring Problems
Implement Weekly Meeting Cadence
Evaluate if Right People are in Right Seats
Clarify & Document Key Processes
Identify Core Functions
Manage Change & Make it Stick
Quarterly and Annual Review & Planning
The Whole PIE
The Whole PIE System™ includes 18 practical business-building tools to help you get results faster.
Four of these tools are the cornerstones of the System. These four tools alone, if implemented and used weekly in your business, will increase your focus and efficiency and help you get better results (while enjoying the process of doing so):
The Big Picture™
The Quarterly Picture™
The Key Data Tracker™
The 6-Item Meeting Agenda™
Get access to these 4 FREE tools right now
Enter your email address to subscribe to this blog and access our free tools.